Pioneer Grove Educational Center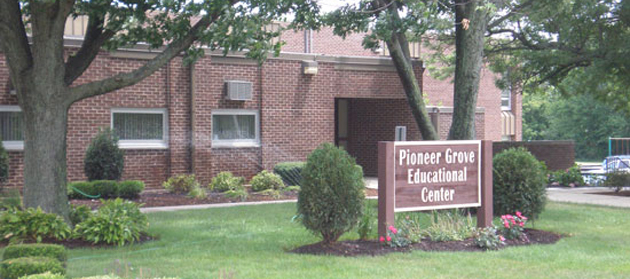 Pioneer Grove Educational Center
601 Willow Street
Frankfort, IL 60423

Phone: 815-806-4685
Fax: 815-806-4686

Principal: Larry Piwnicki
School Hours:
Monday through Friday - 8:30 a.m. to 2:15 p.m.
District 843 Parent/Student Handbook
The classes at Pioneer Grove Educational Center are designed to meet the unique needs of students from ages 3 through 22. We believe all students can learn. Our goal is to provide the appropriate supports, modifications, and adaptations to assist each student to reach his/her maximum potential in all areas of development: communication, cognition, physical, social and emotional, daily living skills, and independence. We believe that parents/guardians are valuable partners, working with the school, to make a difference in the growth of each student.
Programs at Pioneer Grove
Adapted Individualized Methods (AIM ) Grades Pre-K-4
The AIM learning environments support students who benefit from a highly structured school day with a strong emphasis on communication development through a multi-modal approach. AIM students are building their functional academic skills and communication in order to reach their greatest level of independence. AIM students thrive with sensory integration, use of visuals, concrete language, reinforcement and routine. The AIM learning environment sets the foundation for students to acquire vocational skills when they reach the 5th grade and transition into the SCILS learning environment.
Self-Contained Independent Life Skills (SCILS) Grades 5-12+
The SCILS learning environments support students focusing on daily living skills, vocational skills, functional academics as well as social and environmental awareness. Students practice the skills learned through community-based education and integration activities that will help transition them for life beyond the classroom. SCILS students advance from classroom job training to school-based job training to community-based job training as each SCILS classroom builds on the necessary skills for work readiness. SCILS students thrive with individually adapted programming that reinforces and expands on foundational skills for success in vocational settings.
Multi-Needs (MN) Grades Pre-K-12+
The Multi-Needs learning environments support students with multiple disabilities with deficits in intellectual functioning, adaptive skills, motor skills, sensory functioning and communication skills. Intensive therapies work together to target the multiple areas of need in this environment as students rely on adult support for all major life activities. There is an emphasis on consistent vocabulary, structure and materials long term between home and school as new skills are acquired slowly. MN students thrive in this environment with assistive technology supports, special equipment, hands-on learning, cause and effect activities, and extended time for processing tasks.
Speech/language therapy, occupational therapy, physical therapy, hearing itinerant, vision itinerant, orientation and mobility services are available to students who are determined to be eligible. In accordance with Illinois service provider best practices, the Cooperative requests an occupational therapy prescription and requires a physical therapy prescription annually prior to providing these services.